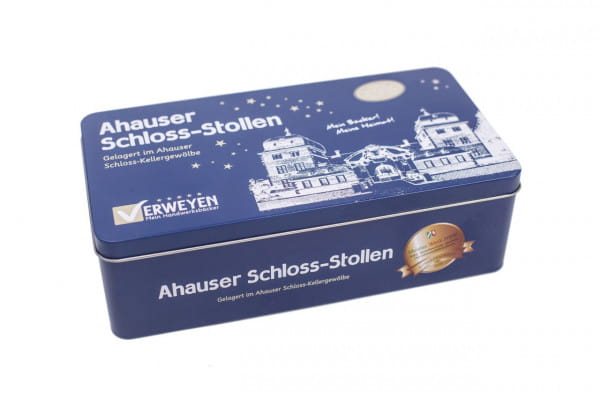 IB_003 • tin box for biscuits
Specializing in high-quality metal stollen packaging, we offer numerous benefits for both businesses and end consumers.
These advantages highlight the importance of metal packaging for stollen and other baked goods:
Durability and Protection:
Metal packaging is strong and resilient, providing optimal protection against external factors like moisture, light, and physical damage. This is especially important for delicate baked goods like stollen, ensuring they maintain their quality and freshness over time.
Sustainability and Eco-Friendliness:
Metal is a sustainable material as it's completely recyclable and reusable. Using metal packaging aligns with the growing trend towards more eco-conscious packaging solutions, enhancing a company's green image.
Aesthetic and Customization:
Metal packaging offers diverse design possibilities in terms of shapes, colors, and printing techniques. This allows for the creation of unique designs that not only effectively showcase a brand but also appeal to the aesthetic preferences of the target audience.
High-Quality Perception:
Metal packaging adds a premium and elegant touch to products. For consumers purchasing stollen as a gift or for special occasions, this enhances the perceived value of the product and the brand.
Effective Brand Communication:
A custom-designed stollen packaging serves not just as protection for the product, but also as an effective communication tool. Tailored designs help in conveying a brand's message attractively and strengthening brand engagement.
Versatile Use:
Beyond traditional use for stollen, these metal packagings can also be used for other baked goods or as creative packaging solutions for a wide range of products, highlighting their versatility and economic efficiency.
Using metal packaging for stollen from our company helps businesses effectively protect their products, conserve the environment, and simultaneously elevate their brand image. These packagings offer a perfect combination of functionality, aesthetics, and sustainability.
Discover the opportunity to create your own custom-made tin with us. Our dedicated team is here to guide you every step of the way, ensuring that your vision becomes a reality. We offer personalized design options, including printing and embossing, and are happy to advise on the best sizes to make your product stand out. Don't hesitate to contact us and start crafting your unique packaging solution.
Order number:

IB_003

Size:

mm

Volume:

2700 ml

Material:

tinplate, food safe
Do you have any questions about the article or individual finishing?
I will be glad to help you:
Thomas Hänel
+49 ( 0 ) 3621 - 733 80 10
thomas.haenel@doseplus.de